Housing First Training
The Housing First Europe Hub can help organisations, governments, housing providers, and professionals,  to organize information sessions and training for a wide range of audiences.  We can provide introductory level programmes as well as specialist training on specific topics.
Please contact Samara Jones (samara.jones@housingfirsteurope.eu) for more information.
Train-the-Trainer (TTT)
The Hub runs an annual educational programme for Housing First trainers called Train-the-Trainer, designed for trainers who wish to specialize in 

training

 on Housing First.  The goal is to create a European pool of trainers who are experienced and knowledgeable about Housing First, and who will be able to conduct a variety of training modules on aspects of Housing First in countries across Europe, and beyond.
Now entering its fourth year, each course brings together approximately 30 trainers from a number of European countries and beyond for three training sessions in different European cities over the course of a year. The curriculum is based on the Housing First Europe Guide (which is now available in English, French, German, Swedish, Italian, Spanish, Hungarian, and Czech).
The trainers use the 8 core principles of Housing First  as a foundation for the course, and are now developing their own training courses on topics which cover topics in the following areas:
– What is Housing First
– Delivering Housing First
– Managing Housing First
The current course will run in late 2022. Please note that each Cohort is limited to 30 participants. Participants from Hub partner organisations are offered first preference on course places.
To become a Hub partner, or if you wish to be kept informed about applications for the train-the)trainer programme, please contact one of our Hub Programme Coordinators.
TTT Course Dates 2023 (Cohort 5)
Cohort 5
Session 1:
24 – 26 April 2023 (3 full days of training)
Location:
Brussels, Belgium
Session 2: 13-15 June 2023 (3 full days of training)
Location: Torino (Turin), Italy
Session 3: 13-17 November 2023 (4 full days of training; 1 day break for visits and rest)
Location: Budapest, Hungary
For more information, please read our Call for Applications 2023
**Please note: attendance at all three sessions of the course is required to receive certification from the Hub.***
TTT: Housing First for Youth
Date: 13th – 15th March, 2023.
Location: Lyon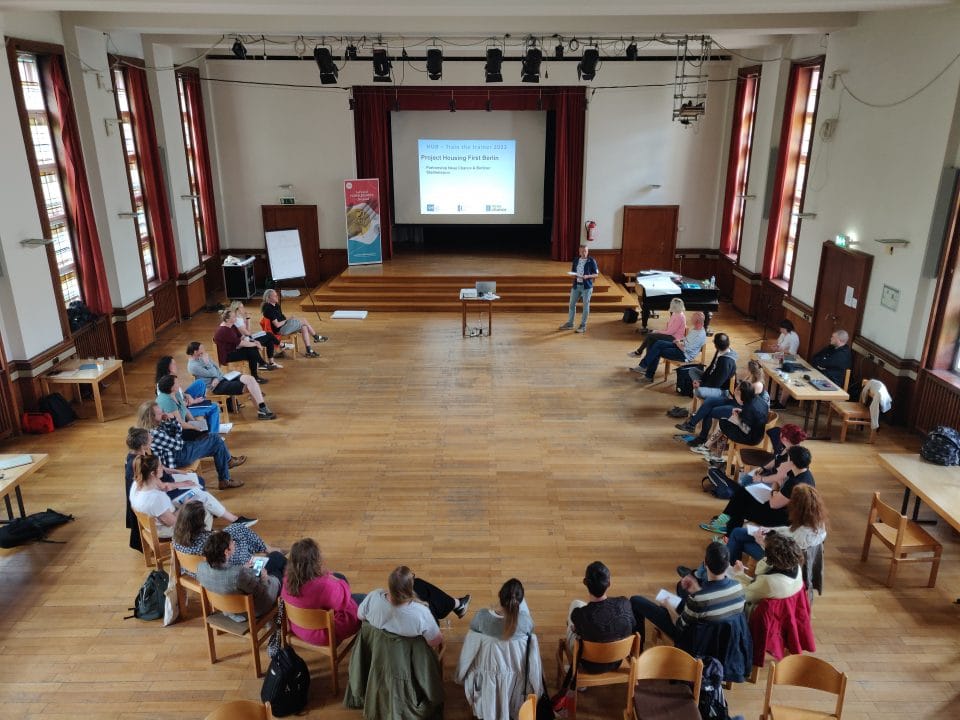 Trainers who have completed the Housing First Europe Hub's Train-the-Trainer programme are eligible to join our Housing First Training Faculty. Our expert trainers are leaders in their field and work in organisations, governments, and educational institutions across Europe. Click on the photos below to learn more about each of our certified trainers, or use the filter menu above to find the latest list of trainers available to provide training on Housing First in your local area.
Introductory Training Videos