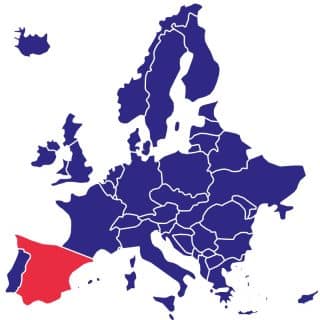 Spain
In 2014 HOGAR SÍ, in collaboration with Provivienda, was the first organisation in Spain that started developing and systematically implementing Housing First projects in Spain.
The starting point for this was the so-called Hábitat project as a state-level pilot project in three Spanish cities: Madrid, Barcelona and Málaga. Since then there are more than 500 Housing First projects that have been set up around Spain.
Around the year 2012, some Spanish social organisations began advocating for the introduction of
the Housing First model in Spain. The first success of these advocacy efforts could be seen in 2014 with the implementation of the Hábitat project in Madrid, Barcelona and Málaga led by HOGAR SÍ.
The so-called 'staircase' model was previously the most commonly used approach in Spain. However, in 2015, the National Strategy for Homeless People 2015-2020 got published by the Council of Ministers in which Housing First got specifically mentioned as a strategic recommendation. It has to be noted though, that the regional governments are not obliged to follow the strategy.
The Hábitat project showed a high housing retention rate and increased levels of quality of life for its participants. Inspired by these initial successful results, the first public Housing First service in the country, called Primer la Llar, got established by the municipality of Barcelona in 2015.
Our partners in Spain
Asociacion Provivienda

Provivienda is a non-profit organization that works for social and residential inclusion across Spain, promoting the right to housing since 1989. Its aim is to address housing needs, especially of social excluded people, promoting the access and maintenance to affordable and adequate dwellings. Provivienda is the housing stock and support provider in Hábitat, a Housing First program run in alliance with HOGAR SI since we joined forces in 2016. Currently we offer more than 300 Housing First units throughout Spain, making Hábitat the biggest Housing First service in the country.

Ministerio Derechos Sociales y Agenda 2030

The Ministry of Social Rights and Agenda 2030 is located in Madrid and was created in January 2020 by the current coalition Government. The first ministry with exclusive competences on social affairs was created in 1988. Currently, social affairs are centralized in the Secretary of State of Social Rights. Its mandate includes the following competences: social rights and social welfare; family welfare and family diversity; minor and childhood protection; youth and people with disabilities issues. Likewise, the Ministry is responsible for the proposal and execution of the Government's policy regarding the implementation of the 2030 Agenda and the fulfillment of the Sustainable Development Goals. The first National Homeless Strategy 2015-2020 was approved in 2015 by the Government of Spain. This strategy prioritizes housing-led approaches and focuses on the application of the Housing First methodology as a strategic line. The strategy includes financing projects for the dissemination of good practices and capacity building on this methodology. Since 2015, several projects implemented by several NGOs have been financed thanks to this strategy with a total amount of €4 048 826.

HOGAR SÍ

HOGAR SÍ is an independent, non-profit state-level organization created in 1998. We work to ensure that no one lives on the street. We believe that it is possible to eradicate homelessness. We work along the community to change the approach to this phenomenon, confronting the structural and systemic factors instead of managing individual situations. Based on the Housing First methodology, Hábitat focuses on supporting homeless in the most difficult situations by providing affordable and permanent housing with additional support based on their needs. HOGAR SÍ is the first organization developing this methodology in Spain, which is obtaining excellent results in people's lives and in the economic efficiency of the program. The last assessment of the Housing First Methodology in Spain revealed that 96% of the program participants kept their homes after 18 months since their incorporation, proving that Hábitat is an efficient solution to homelessness in Spain.

Sant Joan de Déu

The Orden Hospitalaria de San Juan de Dios (OHSJD), with 500 years of history, is dedicated to the people who need a personalised support in the area of health, well-being and social exclusion. OHSJD is currently working worldwide by putting in place projects and strategic programs (https://www.ohsjd.es/orden-mundo). In the area of social exclusion, our key purpose is to provide an upstanding professional support and a comprehensive social service to the homeless community . Since 2015, the OHSJD – and the entities that are part of it – has been addressing the homeless care and support methodology by appling Housing First standards and philosophy, which has proven to be the most successful method to address this issue. At present, Sant Joan de Déu Serveis Socials – Barcelona, Sant Joan de Déu València, Jesus Abandonado Foundation, and Sant Joan de Déu Terres de Lleida – attend more than 76 people in projects that follow the principles of Housing First. Each one of the entities manage their own programs, as well as programs granted by public authorities such as the City Council of Barcelona. Apart from the great results we have achieved, the Housing First methodology also helps us in our advocacy activities to fostering the right to decent housing for all.
Trainers
I'm Josep and I have 10 years of experience working in the social sector as a Social Educator. I started working with people with disabilities, with children in care and since 2016 I'm working with this new paradigm HF in Lleida. I believe in this new paradigm and I also think that it is possible to adapt it to the needs of each city. We can do it!

I am a social educator and social worker. As a social intervention professional from 2011, I have worked in many social sectors and social areas, which has allowed me to develop different skills and intervention strategies, in addition to having different professional experiences. Currently, I work as a support worker on the public project "Building Home. Housing First" in Madrid. I feel very strongly about Housing First and its principles. I think Housing First is the way societies can end homelessness and I am sure that this reality is possible.